Today was pretty tough for Kyah. After dropping our visitors to Movie World, we went to church. Then we came home and had some quiet time together. She then tidied the house while I did the yard.
Then we went into our gym and Kyah tried to do the exercises I had set up for her. Her foot was really sore and she was not able to perform the technique correctly. This disappointed her a lot.
She is aware the Ziegler girls are out here from the US and there is a Masterclass this coming weekend. She would love to participate, but again because of her injury she is not able to. All the disappointment of not being able to participate in workshops, summer schools, ballet exams that she spent a year preparing for, an audition for Queensland Ballet and an audition for a contemporary company, not to mention all the things she has not been able to do in her normal life, since her injury and all the things she still needs to be cautious about … it all got too much for her today.
All we can do is try to continue on with her rehab, stay positive, pick up the pieces when they fall down, and try to move forward when she is able. Next week she has a really important summer school workshop and we are both hoping and praying she will be able to participate properly and for the duration.
Now I know why this scripture stuck out at me this morning; Therefore do not cast away your confidence, which has great reward. For you have need of endurance, so that after you have done the will of God, you may receive the promise.   Heb 10:35-36.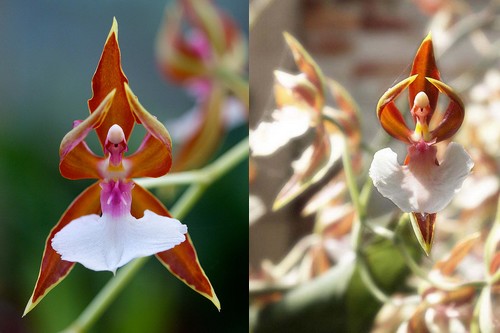 Isn't this flower amazing? It is an orchid that looks like a ballerina.